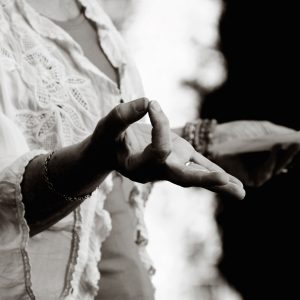 Today is our first excursion to a specific destination (as opposed to a tour of general sites).  We headed down the hill to San Daminio.  Just to orient you in the story of history of this structure, I'll mention its significance in the story of Franciscan tradition.
Historical and mythical background (short version) – Francis was a failed soldier, to make a long story short.  While he wished to go off and fight in the crusades, it didn't work out quite that way, and he returned to Assisi with his head hung low.  At that time, San Damiano was a small church outside of the town walls, and it was in ruin.  It was while praying here that Francis had some kind of awakening or vision.  Some claim that he saw Jesus speak to him from the crucifix over the alter.  In Padre Gianmaria's writings, he cautions against this image because Francis never actually said that is what he saw.  What is clear though, is that he understood that God asked him to rebuild 'the church.'  Francis took this literally, 'borrowed' some of his father's money and rebuilt this particular church.  This was the beginning of the end of Francis' layman's life.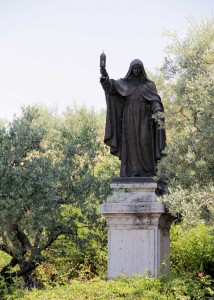 This church was also extremely significant in the life of St. Clare because once she joined the Franciscans, it was clear that living co-ed at that time would not work.  So, Francis asked her to start an order of women, and their home was San Damiano.  Clare spent most of her life there and died there.  It was also here where she is said to have saved the town of Assisi from invading Saracen soldiers in 1240 by holding the Eucharist and praying.  She became the official protector of Assisi, and the city vowed to be devoted to her (more about that on Sunday).  What I find really interesting is that her body was so sick at the time of this event that she had to be carried out to perform this miracle, and yet still, this sick, broken woman sent back an army.
So, with this in mind, we head down the hill towards the space of the church in the middle of farm lands.  Just above the church itself, there is a gathering point where Mirka initiated us into the practice of the chin mudra (the thumb touching the index finger with the other three fingers extended).  We did some practice with the mudra and had some discussion on practice, peace, and forgiveness.  One of my favorite quotes from that discussion was :
"Forgiveness can happen only when I give up all hope of a perfect past"
After visiting the site and seeing where Clare and her order lived, before you head out to the court yard, you can read the last words of St. Clare as she said goodbye to her own spirit:
"Go calmly in peace, for you will have a good escort,
because He who created you has sent you the Holy Spirit
and has always guarded you as a mother does her child who loves her.
O Lord, may you who have created me, be blessed."
Some of us gathered outside afterwards in a shady corner and Mirka introduced us to a peace chant.  This turned out to be a very powerful experience for some of us.  As we learned this chant, we had some important practice on cultivating and supporting inner peace even in the midst of confrontation.  This chant had a particularly potent meaning for some of us on this day.
Here are the English translation of the words from the Santimantrah (Peace chant):
May there be peace in heaven, peace in the skies, and peace on Earth.
May all the waters know peace.
May all the herbs and plants know peace.
May all the great trees of the forest know peace.
May all the forces of the Universe know peace.
The immense, transcendent reality is peace.
May all know peace, peace, and only peace,
and May that peace come unto me.
Om peace, peace, peace.
After this, we returned to town, ate, rested and then returned to our beautiful St. Giorgio's chapel for practice.  Mirka brought us back to the work of the morning and supported it with Asana and breath work.  She also began helping us connect with the first three chakras using imagery and sound associated with each chakra.  Slowly, we are building a foundation to connect deeply with the energy system in the body.  A beautiful way to end an active day.