Reclaim Your Heart:
Walking the 8-fold Path of Yoga
A Virtual Community
NOTE: updated dates for the last three sessions!
.
All live calls take place on
Fridays at 8:00 am PST. (see Program details for dates)
.

Package pricing and registration below.
.

DROP-INs available! $25/class. Pay here, and contact Tammy for the Zoom meeting ID/link.
.

You can watch the videos at any time, as they are recorded.
.

In this video conference series Mirka offers practical tools for self-care to strengthen connection to the heart of life and to others. She provides breathing, movement, and meditation instruction and support materials based on her decades of multi-disciplinary study and application of the 8-fold Path described in the Yoga Sutras of Patanjali.  In a setting of safety (please see our safe space policy) and deep respect for the individual journey, participants who join live will have the opportunity to ask questions and connect personally with Mirka – who responds with generous heart and deep wisdom.
.

There are two sessions left in the series "Reclaim Your Heart". You are welcome to join even if it's your first time.
.
REMAINING SESSIONS:
Each "session' consists of 4 weekly video calls.
.

Session 5 Resting in the Heart – Integrated practice
Staying with the peace – integrated practice with Yoga Nidra
June 26, July 3, 10, 17
.

Session 6 Uniting with the Heart – Integrated practice
Trusting what arises in the Heart – the embrace
July 24, 31, August 1, 14
.

All live calls take place on Fridays at 8:00 am PST.
Or you can watch the videos at any time, as they are recorded.
---
REGISTRATION
We now offer two prices – for those who would like to be on Live and connect with Mirka during discussions or for those listening to the recordings after the calls:
Joining live – including guided sessions, community page, recordings, and discussions with Mirka and the live community.
$25 single class drop-in
$100 per session (1 month)
$275 for 3 sessions (3 months)
Price for only the recorded sessions – This option is for those who know they will not be joining us live but would like to attend via the recordings on the community page.

$65 per session (1 month) 
$170 for 3 sessions (3 months)
$300 for all 6 sessions of the year
Limited financial support available for those in need. Please inquire with

Tammy

.
DROP-INs available for $25/class. Pay here, and contact Tammy for the Zoom meeting ID/link.
---
A Note about the Virtual Community From Mirka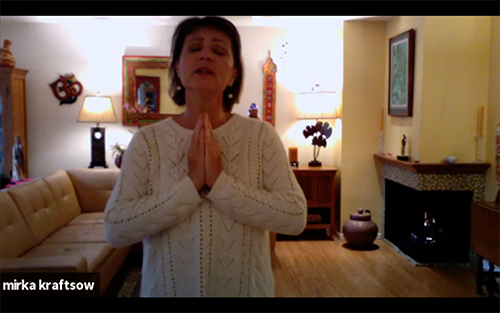 I look forward to meeting with you and like-hearted people with a wide range of experiences and interests in Yoga. The focus of our time together is to help you take the many tools of Yoga and apply them effectively in your unique life journey. 
Each session includes an opening centering experience as well as demonstration and explanation of breathing, movement, and/or meditation experiences relevant to the class theme.
The curriculum I have developed is based on my experience and study of Yogic teachings and on my life-long journey into the heart of life. I listen to each of you during our meeting and teach to the questions and needs that emerge in the group. I am deeply committed to providing guidance that is relevant to the time we individually and collectively live in.  
Discussion is a very meaningful part of each meeting. To protect the privacy of those on the call, these discussions will not be recorded or shared except for special circumstances when consent for recording is agreed upon ahead of time.
I am very grateful for Tammy Bosler who is a critical partner in the work I bring to you. Her guidance and deep immersion in the 8-fold Path of Yoga as a yoga teacher and practitioner means you are lovingly and professionally supported in your experience. Tammy's technology skills make our online meetings possible and she carefully edits sessions as needed for our Safe Space Policy, uploads recorded sessions to a dedicated community page, problem solves technology issues that arise, and more. 
We look forward to being with you. Please join us in Reclaiming the Heart! 
---
"I was pleasantly surprised by the online sangha – I felt so connected, so supported! A really incredible service, to have a retreat from my own home. Mirka anchors the group so well, and the spirit flows easily across great distances. Really amazing!" ~ Bronwyn
---
2020 

Logistical

 Details
Can't make it live? Don't worry! The Live Calls will be recorded and shared on a community page. 
Each program includes additional material to support your practice between calls and far beyond.  We utilize Zoom technology to offer crisp, clear HD video. 
Refunds and cancellations:
For cancellations made prior to a month before the first call, a cancellation fee of $20 will apply. For cancellations in the a month before the first call, a 50% refund will be available. Once the call series begins, no refunds will be issued since participants will have access to all call materials.
Please contact Tammy with any questions: – Tammy.yogadigital@gmail.com
.