"The seeds have been planted, now we must cultivate this practice and these opportunities, and harvest the fruit of insight, transformation, and healing"
– Mirka Scalco Kraftsow
---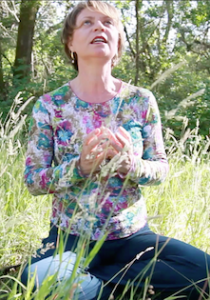 Gift of Awareness – Video Sangha
Feb. 16, 23, March 2, 9
Join live each Friday at 8:00 am PST.
Calls will be recorded – you can watch any of them later at your own leisure.
Do you want to develop more alert and compassionate responses to yourself and others even in times of stress? Do you sometimes feel isolated or uncertain about how to proceed with your contemplative yoga practices?
Reconnect with the deep sense of Love and Benevolence within!  Whether you are just taking your first steps on the Yoga path or are an experienced Yoga teacher, you are welcome join these online gatherings. This weekly series will immerse you in the traditions of Yoga that have been benefiting humanity for thousands of years, and will send you home with a personal practice that truly sustains your body, Heart and Mind.
Through these hour-long teleconference calls, Mirka guides your awareness using integrated experiences to help you find the quiet space to be, most deeply, with your truest self. Mirka will create comprehensive, written practices that you will receive for your own personal practice. She weaves asana, pranayama, guided meditative inquiry and chanting into each session. These integrated sequences will help you stay connected to your practice, to your sangha, to your Self.
Mirka will be available for individual support between each of the four sessions during the teleseries through an online forum or over the phone.
Simply call a teleconference number to participate in classes. Classes are also recorded if you can't make the session or if you want to listen to them again. Call recordings will be made available on mp3 (downloadable) to course participants. An online discussion sangha-support site allows you to post questions and stay in touch with others in the class.
"Self is everywhere, shining forth from all beings, vaster than the vast, subtler than the most subtle, unreachable, yet nearer than the breath, nearer than the heart." –Mundaka Upanishad
The Gift of Awareness teleconference series is an opportunity to explore the authentic teachings and practices of Tantric Yoga, oriented towards personal transformation and self actualization.
The distinctive perspective of Tantra is that the Divine is immanent in our body, heart and mind as well as the world around us. The Outer, Inner and Secret Practices of Tantric Yoga will help us to develop a truly integrated Tantric Yoga practice that addresses the totality of the intricate web of life – from our inmost sense of self, our thoughts and feelings, to the workings of our physiology and the movements of our spine, to the dynamics of our interpersonal relationships, to our experience of nature, to our sense of the Divine and its living presence in our lives.
During this retreat, we will share what the elements of an integrated practice are, how they were designed to function in an integrated way, and how to apply them in daily life!
The series will be based on the Heart Mind Residential Retreat lead by Gary Kraftsow and Mirka in the fall of 2012. Teachings will be drawn from a variety of source texts as well as the oral instructions Mirka has received from masters of Tantric Yoga.
Practices will include the integrated use of : asana, pranayama, chanting, mantra, nyasa, sankalpa, visualization, Deity Yoga, meditation, and ritual.
Join Mirka for a special time of personal integration and transformation using the inner practices of yoga. Each Teleconference Series will be a unique experience based on the student's individual goals and interests.
Optional mentorship and support are available after the retreat to support your integration of the teachings into home life based on your goals and interests.
This session is the first part of Mirka's new year-long online program of 2018. Read more!
Refunds and cancellations:
For cancellations made prior to 2 weeks before the first call, a cancellation fee of $20 will apply.  For cancellations in the two weeks before the first call, a 50% refund will be available. Once the call series begins, no refunds will be issued since participants will have access to all call materials.