April 23 – 30, 2019
Now over, but check out our June 2019 Assisi Retreat with Reverend Edward Viljoen of The Center for Spiritual Living!

---
"The Assisi Retreat confirmed that yoga is the most amazing tool I have found for allowing one to get in touch with our true self, our spiritual essence, regardless of what religious or spiritual path one is on, and that the physical health benefits are just one of yoga's small, yet important, tools/benefit. Mirka and Tammy were gifted guides on this quest, bringing wisdom, history, nature, beauty, spirituality, humility, and perhaps most importantly, a sense of reverence and awe to our sangha's individual and collective presence in Assisi." – Craig, April 2019

"My experience at the yoga retreat in Assisi rose above all expectations. I came away feeling it to be a spiritual, cultural, introspective retreat with gentle physical awareness, all through the experienced, loving hands and heart of Mirka." – Cheryl, April 2019
---
.

It is a heartfelt joy for Mirka to create retreats that journey to a deep source of Peace and Inspiration that is the the beautiful town of Assisi, the home of St. Francis and St. Clare who created a movement of peace that continues to resonate around the world.  This wonderful adventure into the heart of Italy is also an immersion into the tools of Yoga and other contemplative practices, namely Asana, Pranayama, chanting, meditation, and the teachings and spirit of the ancient Seers. We will enjoy excursions to sacred sites in the area, where Francis loved to pray, like the Porziuncola and Eremo delle Carceri, and other special towns, including Gubbio and Spoleto. It is a gift to share this special place to support our spiritual journey, entering together into the depth of practice with joy and appreciation of each other's presence.
.
The Morning Sessions will be focused on the Asana as well as inner practices of meditation, self inquiry, Pranayama and chanting.  There will be an hour of Pranayama and meditation before breakfast and a longer practice from mid morning until lunch time.  These sessions will take place in our beautiful practice and will prepared for the afternoon activities. In our Afternoon Sessions will consist of immersion experiences at special sites and Sangha sharing around the town. On location, we will be guided through practices that help ground us in Shanti/peace using the inspiration of the history of the locations.  After dinner you are free to explore the beauty of Assisi by night to take advantage of local food and entertainment.
.
Assisi, in the ancient Umbrian hills of central Italy, is one of those special places where the spiritual presence is tangibly felt. It offers us a glimpse into medieval Italy that cannot be found in Rome, Milan, or even Florence. This is the place where Saints Francis and Clare, and many other mystics of the past and present, communed with God. We return year after year to Assisi to absorb the blessings of the Saints and be recharged by its rich spiritual atmosphere.
.
In the true Franciscan tradition of gathering the spiritual community to meet and share in Assisi, Mirka returns again and again bringing devoted students and many new friends to walk in the spirit of Peace/Shanti like the saints of Assisi did so long ago.
This video (full length) captures the beauty of the recent Yoga retreat in Assisi in September 2012. You can also read about the week on the 2012 retreat blog and the 2014 retreat blog written by Tammy Bosler (retreat Assistant).  To purchase your copy of the full length DVD documentary, please visit us here for more information.
Mirka reciting the Prayer of St. Francis:
click this play button to listen:
Prayer of St. Francis
Lord, make me an instrument of your Peace.
Where there is Hatred, let me sow Love.
Where there is Injury, Pardon.
Where there is Doubt, Faith.
Where there is Despair, Hope.
Where there is Darkness, Light.
Where there is Sadness, Joy.
O Divine Master, grant that I may not so much seek 
to be Consoled, as to Console;
to be Understood, as to Understand;
to be Loved, as to Love.
For It is in Giving that we Receive.
It is in Pardoning that we are Pardoned,
and It is in Dying that we are Born to Eternal Life.
Amen.
.
---
This year we will be staying at the 3-star Hotel Dei Priori and Hotel Alexander, both situated in historical buildings, dating back to the 17th century, right in the heart of the old city. Both hotels are modern (including amenities such as Wifi) and elegantly simple. Rooms are uniquely designed as the buildings flow into the tapestry of ancient structures that define down town Assisi; no two rooms are alike. The wonderful staff have become part of the family on this Path to Wholeness, and will be there to help take care of all of your needs while in town. Take a peak at their photo gallery!
.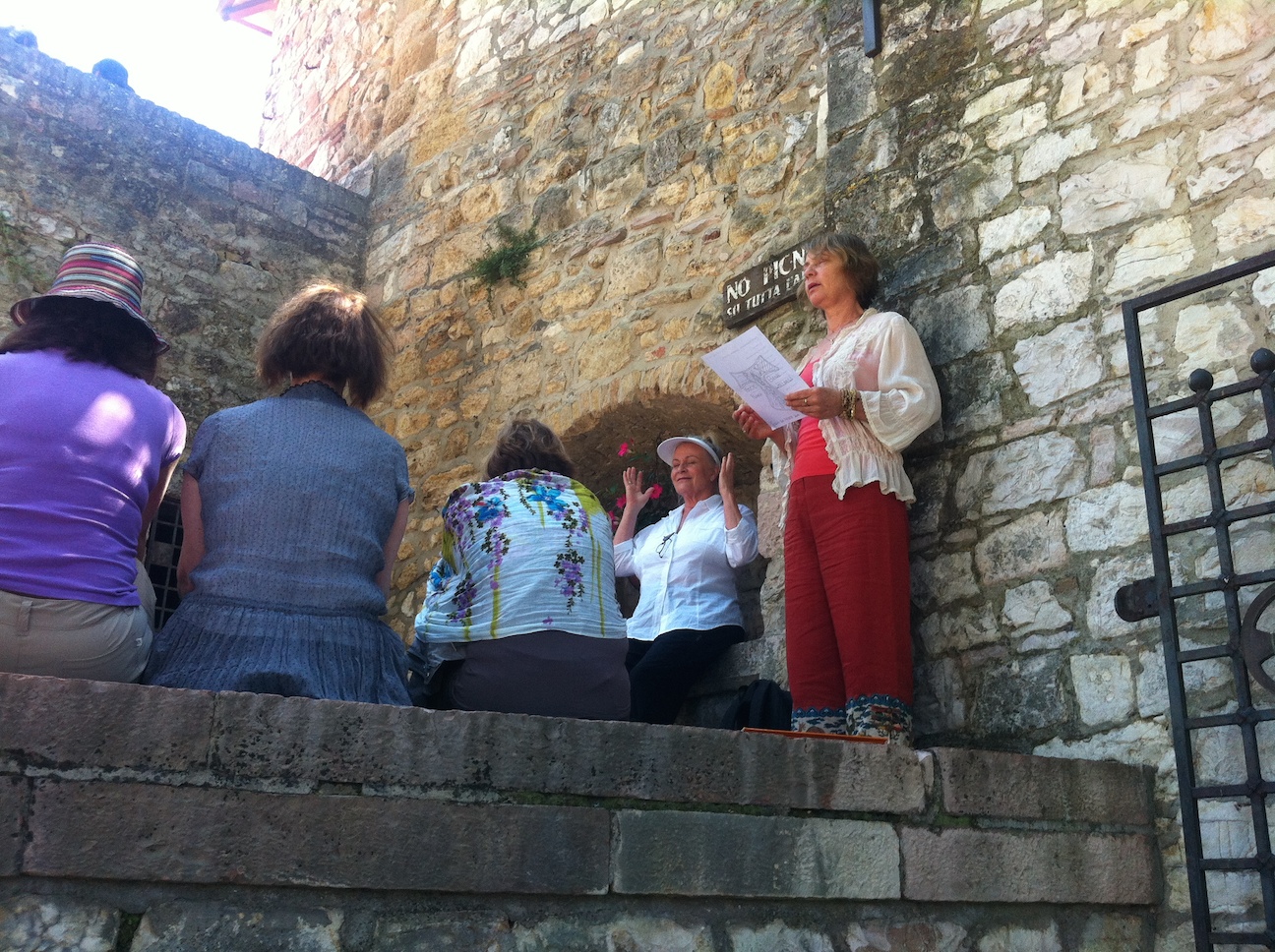 The cost includes teaching, shared rooms for seven nights, taxi fares to and from some of the sites, and breakfast and lunch. You are responsible for airfare to and from your home to Rome, and shared round-trip transportation from Fiumicino to the Assisi; travel support will be available for those needing it. Limited private rooms are also available for an additional cost. You are also responsible for meals away from the hotel. If you have questions contact Mirka via phone  415-246-8246 or electronically.
.
.
.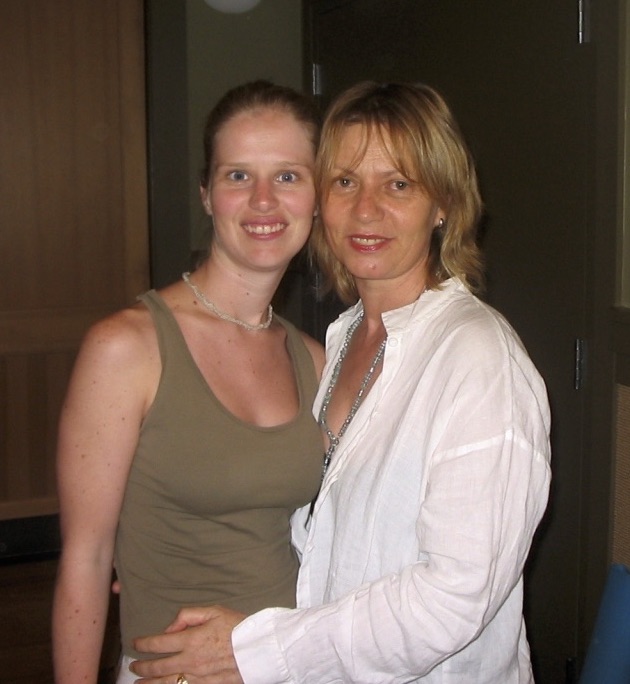 Dr. Tammy Bosler will be assisting and organizing the logistics of the retreat.  She is a Yoga teacher (RYT-500) who has been supporting Mirka's Assisi program since 2012 and has been teaching group classes, workshops, and private students for over a decade.
.
---
Prayer of St. Francis of Assisi at the Crucifix
Most high, glorious God,
Cast Your Light into the darkness of my heart.
Give me, Lord, right faith,
firm hope,
perfect charity,
and profound humility
with wisdom and perception
so that I may carry out
what is truly Your Holy will.
TYPICAL DAILY SCHEDULE FOR THE WEEK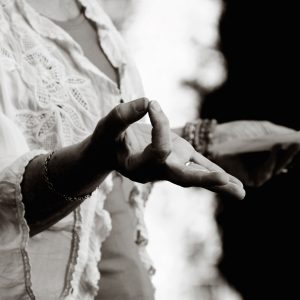 7:30 – 8:30 Breakfast
8:30 – Gather in the Breakfast room to set intention
9:00 – 10:00 – Morning reflections (with special guest)
10:00 – 1:00 PM Morning Asana, pranayama and inner practices on the mat
1:00 pm Lunch as a group at Hotel Dei Priori
4:00 – 6:30 PM – Journey to Special Sites in Town for an immersion experience, usually by foot – These trips normally include historical details, inner Yoga practices, discussions and sharing)
7:00 pm Dinner in town on your own or with new friends from the Sangha
**** Not included in the above description are the many unplanned moments of awakening that seem to arise for all of us each time we return to Assisi!
---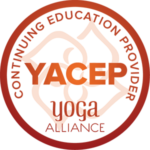 Total retreat cost $2795 includes shared room, breakfast and lunch at beautiful Hotel Dei Priori, and taxis to any sacred sites.  Naturally, this also includes days filled with the beautiful Yoga practices and spiritual pilgrimages to sacred sites in Assisi led with love and great attention by Mirka.
A non-refundable deposit of $250 holds your place for this wonderful journey.
Add $350 for a superior private room or just $200 for a small private room for the week (while they last). Let us know upon registration.