In Depth Viniyoga Study – The Eight Limbed Yoga of Patanjali
A Sangha Gathering with Mirka
10 month non-residential (one Saturday a month)
May 25, June 29, July 27, August 31, September 28, October 26, and November 30
Times: 9:30 AM to 5 PM (with breaks and lunch)
Location: Sebastopol, CA, Westside Yoga Studio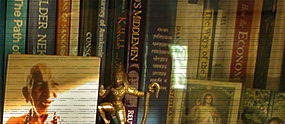 This 10 months intensive is open to every one interested in understanding how to integrate yoga in our every day life.  Mirka will use the eight-limbed path of Yoga laid out in the Yoga Sutras of Patanjali to guide participants through experiences and practices utilizing the well-tested tools of Yoga that supports every aspect of our being.
Costs:
pay as you go for $125.00 per session
$650.00 (Prepaid for 7 sessions)
For more information about the In Depth Viniyoga Study, please contact Mirka directly.  To register, please visit the registration page at Westside Yoga Studio.
---
Spring Intensive!
Body, Mind, Heart & Soul: The Art of Personal Practice
April 25 -28, 2013
Location: Sebastopol, CA, Dhyana Center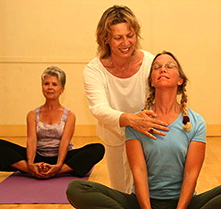 April 25 – 28
Times: 9:30 AM to 11:00 PM & 3:00 – 6:00 PM daily
The retreat is open to anyone but a special invitation is offered to AVI teachers who are looking to reconnect and nourish their personal practice.
How do we purify the hear-mind from the many impressionable experiences of life?  How do we allow ourselves to feel whole in our busy lives?  This workshop is here to remind us that life is the medicine that the soul needs to evolve.
The goal of this intimate retreat will be to activate the Kriyas into everyday life in a practical way in order to deeply cultivate the perfection of who we are in the midst of human experience.  In addition to the traditional Yogic tools of Asana, Pranayama, Chanting, Mantra, and meditation, Mirka will offer experiences with conscience movement with music, walking meditation and Mudra.    Participants will also be guided in experiences to help with purification of the heart and mind based on the Yoga sutras of Patanjali.
Cost $475
Retreat followup and support for those looking to extend the journey:
After retreat, a followup group telecon of four 30 minute sessions will also be offered for for to help deepen the experience for an additional cost of $199.  Mirka will also be available for four sessions of private consultation on a sliding scale $215 – $350 for four 1-hour phone sessions.
For more information about the Art of Personal Practice, please contact Mirka directly.  To register, please visit the Westside Yoga Studio registration page.
---
Yoga Retreat in Assisi, Italy, 2014
June 19th – 26th, 2014
This wonderful adventure into the heart of Italy is also an immersion into asana, pranayama, chanting, meditation, and the teachings and spirit of the ancient Seers. We will enjoy excursions to sacred sites in the area, where Francis loved to pray, like the Porziuncola and Eremo delle Carceri, and other special towns, including Gubbio and Spoleto. It is a gift to share this special place to support our spiritual journey, entering together into the depth of practice with joy and appreciation of each other's presence.
For more information about Assisi visit the Italy Retreat page and/or contact Mirka directly.
---
Yoga and Neuroplasticity Workshop
w/ Mirka Kraftsow and Marilyn Granger
Dates To Be Announced
• Cultivate sustained, focused attention that encourage changes in the wiring of the brain neurons.
• Lecture on how different regions of the brain communicate.
• Explore how yogic wisdom is being supported by modern science.
• All levels welcomes; health professionals encouraged.
Heart-Mind Retreat
Details to Be Announced…
Experience authentic Tantric practice and its power to transform heart and mind. Share sangha and receive teachings including asana, pranayama, mantra, meditation, nyasa, sankalpa and Deity yoga in the contemplative sanctuary of Mercy Center.
For information and registration
www.viniyoga.com/events