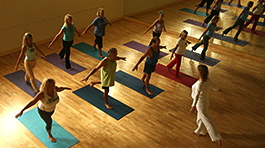 Mirka offers a number of group classes, seminars, and workshops throughout the year in Sebastopol, CA and elsewhere around the globe. Courses explore the intricacies of practice in the Viniyoga methodology and aim at promoting total physical and mental wellness. True to her philosophy of focusing on the individual, Mirka's class sizes are always kept small.  Many students develop a special relationship with Mirka through group classes because she helps to support the individual needs of each student even within the group setting.
Weekly Yoga Classes in Sebastopol
Monday – Saturdays  11:30 AM – 1:00 PM
Some Saturday afternoons 2:00 – 5:00 – Special Intensive events – see Westside schedule for upcoming events
Sebastopol, CA
(707) 827-3886
See Westside schedule here
Private and Group Viniyoga Sessions
Individuals or groups who may have special needs or interests are invited to contact Mirka for a very individualized support over a number of tailored set of classes.  This is especially appropriate for those looking to use the approach of Viniyoga therapy to address particular needs such as injury or illness.
Private one-on-one & group sessions by appointment.
Please contact Mirka or by phone at (707)824-1093
or
Westside Yoga Studio (707) 827-3886